Sports
"The Conqueror" Puts On Display at Latest SugarHouse Fight Night
---
Hats off to King's Boxing Promotions for putting together another exciting sold-out night of boxing at the SugarHouse Casino last Friday night.
In the main event of the evening, super middleweight Christopher "Ice Cold" Brooker of West Philly beat southpaw Oscar Riojas of Monterey, Mexico by unanimous decision after eight rounds to improve to 13-3, with 5 knockouts. The bout had many back-and-forth exchanges, but Brooker toughed it out and won all of the later rounds easily. The scores were 78-74 on all the judges' scorecards.
Brooker had been training with middleweight champ Canelo Alvarez prior to Canelo's fight with Julio Cesar Chavez Jr., and he looked to be in great shape.
"I went to camp with Canelo in San Diego, and we ran in the mountains at 15,000 feet. I was there close to two weeks and sparred 20 rounds with him," Brooker said before his fight last Friday. "It was a great experience to be around a fighter who is one of the elite fighters in the world," he added. "He is so composed. I was brought in to pressure him and mimic Chavez. Canelo is such an experienced fighter. I learned so much from him. He was showing me how to set up my shots and even certain exercises with my neck."
In the co-main event, North Philly's Jerome "The Conqueror" Conquest (7-2, 1KO) put on a disciplined, almost surgical display against 25-year-old Mexican Daniel Perales in a six-round bout. He stuck to the game plan by repeatedly sticking the jab and avoiding Perales' left hook. Perales looked frustrated throughout. While he did manage to connect with one good shot late in the fight, it was too little, too late. Both fighters showed a lot of respect for each other and posed for photos together after their fight.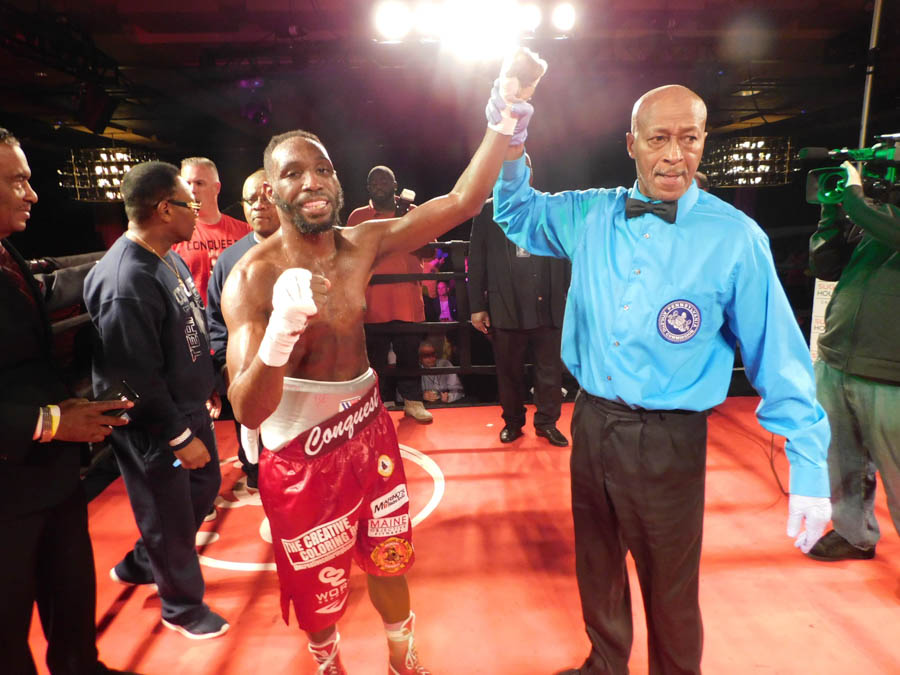 Conquest has the style of an old-school North Philly fighter. Born and raised on North Myrtlewood Street, he trained as a youngster at the old Champ's Gym at 26th and Huntington, but didn't take the sport seriously until later in life. On his walk out, he proudly repped his alma mater by wearing a Strawberry Mansion High School basketball jersey, to the sounds of Mase's "Welcome Back."
He is also directly linked to a golden age of Philly boxing through his Hall of Fame head trainer "Smokin'" Wade Hinnant. Wade was a 14-2 super lightweight in the 1970s, in the days of Willie "The Worm" Monroe, Eugene "Cyclone" Hart, and "Bad" Bennie Briscoe. Back in the day, Wade fought numerous times at the Blue Horizon and the Spectrum and trained at the legendary 26th and Master Rec Center. He now trains Conquest and up-and-comer Scott Kelleher at the Joe Hand Gym in Northern Liberties with his brother Randolph. Conquest also had heavyweight Amir Mansour in his corner and Danny "Swift" Garcia watching ringside.
As exciting as Brooker's and Conquest's fights were, it was the undercard fights with local ties that produced the biggest fireworks.
If Conquest is old-school, then Sam Oropeza is new-school. Oropeza packed the casino with supporters, with easily half the audience on their feet, wearing his T-shirt and chanting "Sam-my, Sam-my" during his bout. All the bars in Delaware County must have been empty.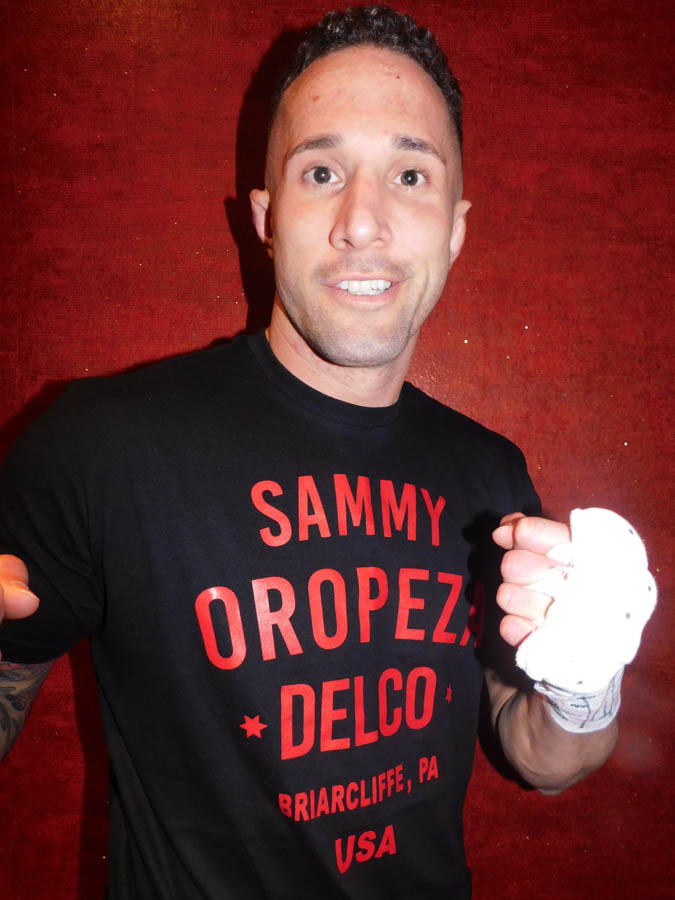 These fans got to witness a four-round war with cruiserweight Kyle "Suave" McNutt of Battle Creek, Michigan. In four rounds of non-stop action, Oropeza knocked McNutt down twice. In the first round, "Suave" went down from a strong straight left by Oropeza. It almost looked like a cartoon, with the blank look in McNutt's eyes, and he lay flat on the canvas with birds flying around his head, chirping and coo-cooing. But to his credit, "Suave" got up, took the ten count and got right back in it. Oropeza dropped him again in the fourth, but near the end, McNutt was clearly the aggressor, landing several unanswered punches. While Oropeza looked like a deer in the headlights as the final bell sounded, he somehow managed to stay on his feet the entire time. That bell couldn't ring soon enough for Oropeza, but he won by unanimous decision. Someone book this rematch, please!
The 31-year-old fighter took a circuitous route to his second professional boxing match on Friday night. Oropeza was a high school wrestler at Monsignor Bonner who started studying Brazilian Jiu Jitsu (BJJ) upon graduation and eventually came to Fishtown to train.
"As a wrestler, I looked up to Eddie Alvarez in high school because he was a tough kid who smoked all the prep school kids," Oropeza told me. "I started training BJJ right after high school and I heard from a friend that Eddie trained at the Fight Factory on Susquehanna Avenue in Fishtown. This was 2007 and I was already a Balance purple belt, and I wanted to learn MMA and train with Eddie Alvarez. I loved the time spent at the Fight Factory. I did my first seven pro fights with Steve Haigh, and I credit him and the gym for giving me my start in fighting."
Oropeza went 13-3 as a professional mixed martial artist, fighting for the Cage Fury Fighting Championship, Bellator, and StrikeForce Promotions. He also was featured on an episode of MTV's Bully Beatdown. "The Fight Factory from 2007-2012 was hands down the most competitive and meanest MMA gym in the city," he said. "We had some very tough and gritty fighters at the gym. I missed those days."
He added: "I worked with the Migliarese brothers since I started, and what they have created for MMA and BJJ in Philadelphia is amazing. My training schedule now is tough due to work and family, but I train when I can. I am fighting to keep my family all under one roof and to move us into a better home."
Oropeza can be his own harshest critic. "I fought sloppy tonight due to the fact that I work a lot, and my family needs me to be a father. I rarely train. At most, I get three times a week. I am the sole provider for my family, and I need to be more focused on work than I am on training. I am glad even though my training didn't reflect my true skill. I got to showcase my heart and determination. I can do better."
In the other undercard bout of local interest, Basyzbekr Baratov drew against talented and highly touted prospect Harold Lopez of Allentown. Baratov is originally from Dzhalal-Abad, Kyrgyzstan, but now trains with Chuck Diesel at the Diesel Fit Boxing Gym in Kensington. He took the fight on two days' notice against Lopez, who was a Puerto Rican national champion as an amateur with 126 wins and only 15 losses. There were a lot of exchanges throughout the fight, and Lopez was credited with a questionable knockdown in the third round that sealed the draw.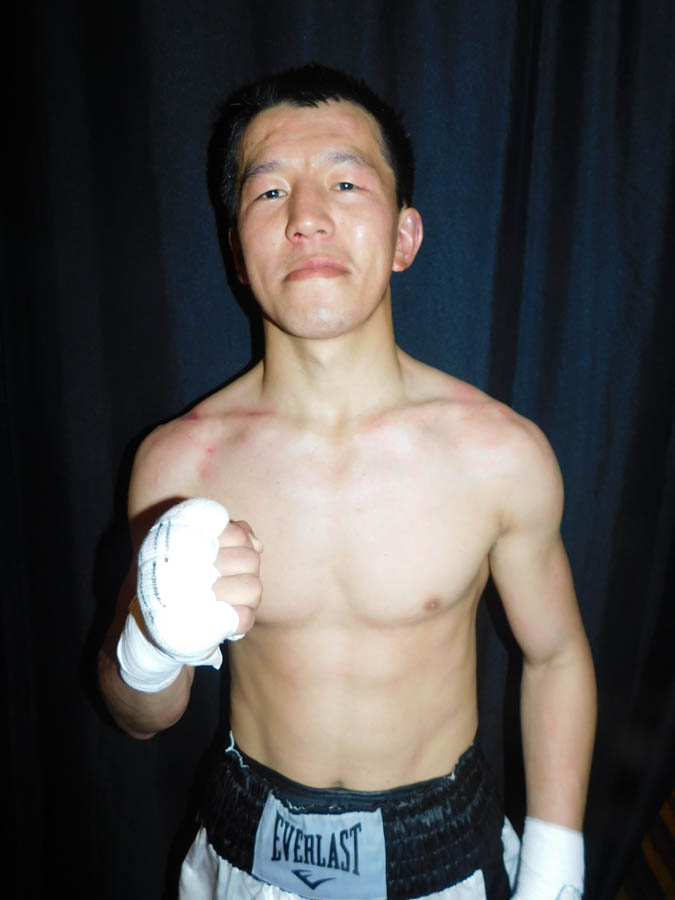 Chuck Diesel wasn't impressed.
"I thought we won the fight. It was a slip. The guy held him and he slipped in the corner, but they gave him the knockdown," Chuck said immediately after the fight.
If Oropeza is his own harshest critic, Chuck Diesel is Baratov's. "The ref was letting the guy hold all night, but Basy was supposed to fight. I told him the guy was going to hold him all night. Basy didn't do his job. Basy lost the fight," Diesel said. "My guy has over 300 amateur fights; he's been a world champion in the amateur ranks. He fought in the Russian army. If he can't beat a stiff like that, maybe he should take up religion. It's a whole lot easier."
Again, someone please book this rematch.
In the rest of the card, Henry Beckford scored a four-round majority decision over previously undefeated Blake Mansfield at super middleweight, and Chaise Nelson won a four-round unanimous decision over Bryan Perez Nevarez in a featherweight bout.