Weather
Accu-Reggie 7 Day Forecast (January 11, 2017 – January 17, 2017)
---
  We made it! We survived the harshest period of winter so far! Last week, winter was not playing around. We received, officially, 4.9" of snow from two storms over 3 days. Meanwhile, we were lucky to see 30 degrees in the temperature department. While you may already be weary of winter, have no fear! The pattern is about to reverse again in favor of some warmth and rainy conditions. While we will still get snow, ice and cold the next 2 weeks, we don't have to worry about extreme winter weather like bone-crushing cold and epic blizzards.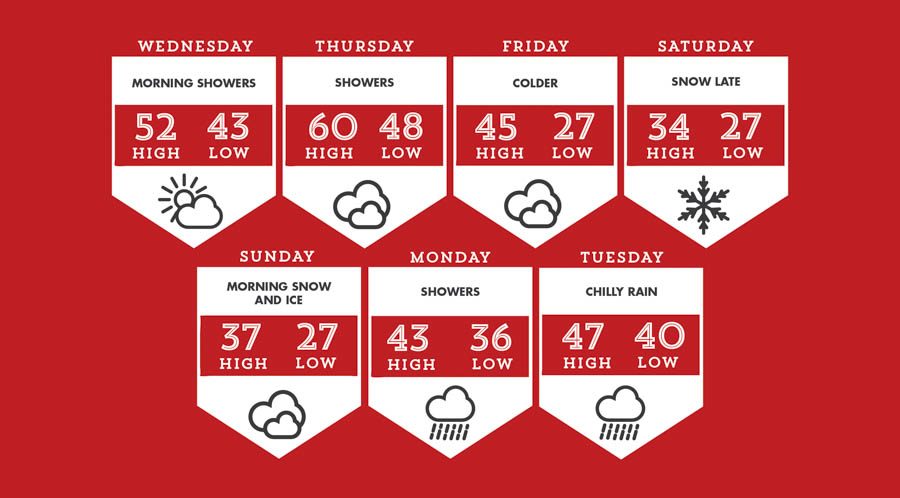 The warmth this week is going to feel like balmy spring weather after dealing with the constant cold of last week. Waves of moisture are going to ride along a frontal boundary creating different bouts of rain, snow and ice throughout the week.   
  Wednesday starts off with the first wave of rain before things turn breezy and dry. It will be mild as temperatures get to the lower 50s. Wave 2 of rain begins overnight into Thursday.
   Thursday is the warmest day of the week. It will be cloudy, but most of the rain will be to our north. Temperatures will climb through the 50s to near 60!
  The cold front drops south on Friday so it's going to be a cooler day with temperatures dropping through the 40s into the 30s.
  Saturday features wave 3 in the afternoon which looks to start off as snow (maybe 1-2 inches) before ending as some sleet and freezing rain. This will be the coldest bit of moisture this week as winter decides to return, albeit briefly.
  Any remaining snow and ice will wrap up Sunday morning as we wait for wave 4, which should bring warmer weather (40s) and clouds back into the picture.
  On Monday, showers begin in the afternoon. The bulk of the storm will occur on Tuesday as rain. While this storm may trend colder, the chance of snow remains primarily in the Poconos for now. It will be a chilly rain in Philly. Yuck! •