Weather
Accu-Reggie 7 Day Forecast (January 18, 2017 – January 24, 2017)
---
  Last week featured blowtorch warmth, some typical winter weather and even a little rain, snow and ice. This week is going to be rather odd for the dead of winter: We most likely will not hit freezing (32 degrees) all week, even at night! Winter has essentially gotten up and walked away. While I am confident it will return, this week looks more like November not January.
  As often is the case around here, with the warmth comes the rain! We get leftover rain showers on Wednesday and then another round of rain on Friday into Saturday. Finally a big time rain storm moves up from the south for Monday. Not even the colder mountains of the Northeast look to get snow from these storms, which is almost unheard of for this time of year. Mark your calendars for January 28th, that's when I see winter returning. Until then all you warm lovers rejoice, winter has taken a break!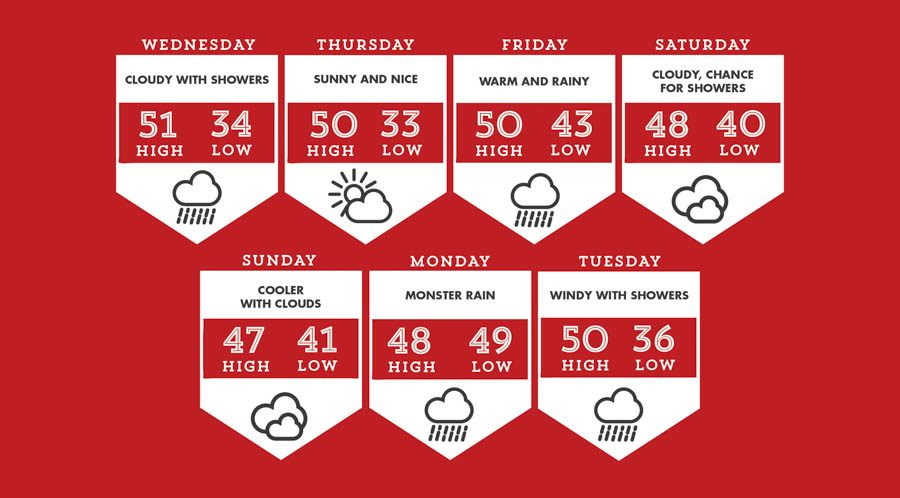 Wednesday starts the week off with clouds and leftover showers from a storm the previous day. It will be warm and breezy with temperatures topping out near 50 degrees.
  Thursday is about as nice as it can get for this time of year. It will be 50 and sunny in the heart of winter. Go out and enjoy the thaw!
Rain returns for Friday as a storm sneaks in from the south. You probably notice the theme already — keep the umbrella handy this week!
Showers linger into Saturday as the storm exits but a cold front works it's way down from New England. The strength of this front remains to be seen, but we could see temps drop into the 40s and upper 30s with drizzle as it moves down into the region.
  Sunday continues cooler with clouds and the chance for a sprinkle. Temperatures hover in the 40s.
  On Monday we watch a big storm move up from the south with tons of moisture setting the stage for a 2-day rain event into Tuesday. While it will get cooler behind the storm Arctic air does not look to get involved to create snow with this storm. Brace yourself though, this is the calm before winter comes crashing back! •