Weather
Accu-Reggie 7 Day Forecast (January 4, 2017 -January 10, 2017)
---
  Happy New Year! What weather will greet us in 2017? Snow and cold!
  The cold comes back this week and I expect snow to follow. The question is how much?
  The first shot of snow comes on Thursday night with a weak coastal storm that develops too far away to bring significant snowfall. We could see an inch or two at most — getting nothing at all is also in the cards.
  The second shot is a much more significant threat that is going to bring a foot of snow to somebody. That "somebody" could be the VA/NC area or it could be the DC/PHL/NYC corridor. I am intensely tracking both of these storms and I'll provide updates and videos as the details become clearer.
  One thing is certain, however: The pattern has shifted back to being cold. For the past couple weeks much of our weather has been above normal and rainy (as you well know).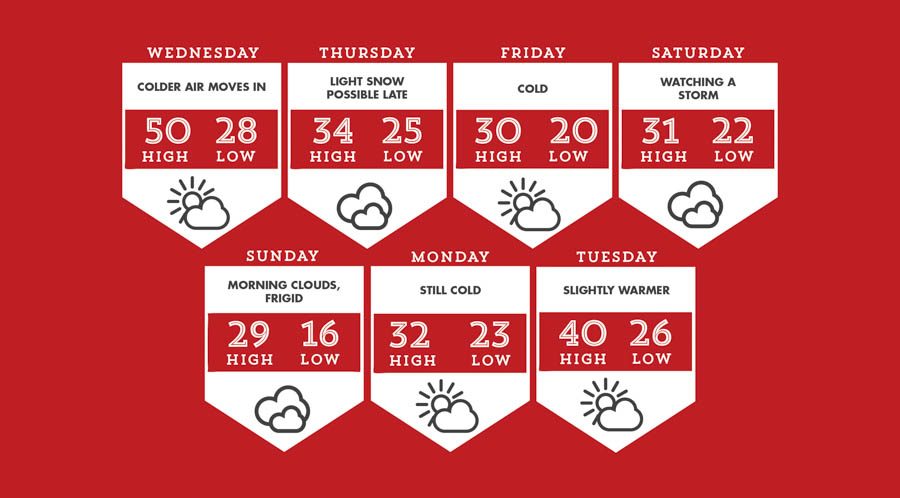 Wednesday is a transition day that starts off warm, but gradually gets colder throughout the day. Temperatures will fall into the 20s at night.
The cold air settles in for Thursday; temperatures only get to the lower 30s. A weak coastal storm develops late in the day that may throw some light snow over the area. This does not look like a big deal at all, but it is worth watching.
  Friday is a cold and raw January day. Temperatures will primarily be in the 20s from sun up to sundown.
  Saturday could feature the biggest snowstorm of the winter season for us or absolutely nothing. A storm will gather across the south and try to move north. The cold air may suppress it to the south and prevent any snow from coming north of DC. Historically, we should see some snow from a setup like this so I'll be updating the forecast frequently. The storm would wrap up early Sunday morning.
  Monday is a cold, dry day behind the storm while Tuesday features a slight increase in temperatures. •