Weather
Accu-Reggie 7-Day Forecast: June 15 – June 21
---
 Last week was a rain-free week with beautiful weather. We had hot 90 degree days on Saturday and Sunday, but otherwise the weather was comfortably warm. This week's weather could be much of the same — or it could be a primarily cloudy and wet affair.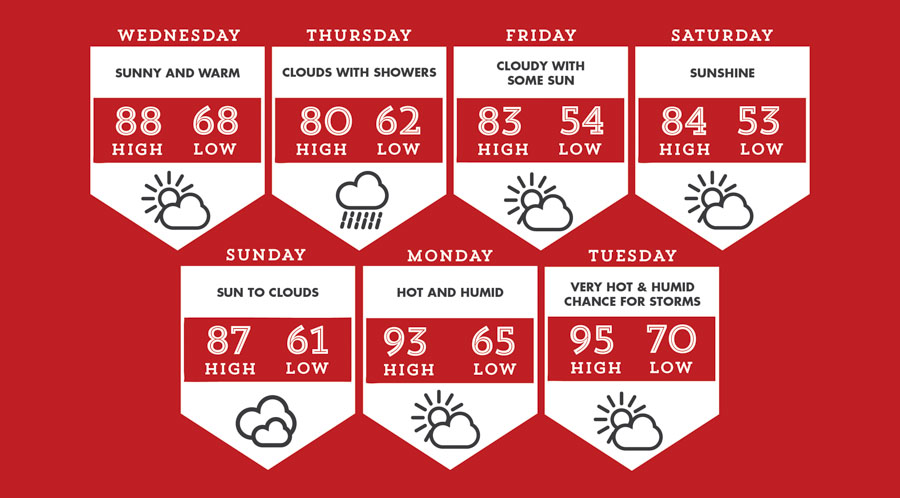 The main weather event this week is a storm that could be around from Thursday until Monday that brings us cool, cloudy weather with bouts of rain during the entire 5 day period! Of course, this storm could completely miss us, leaving only with sunny weather over the same period. We will see some rain from this storm on Thursday. The real uncertainty lies in the weekend time period. As we approach the storm it looks more and more likely to move away after Friday.
 Overall, this summer is looking like it will be pretty average. We will get our fair share of hot days in the 90s, but we will also have cooler days in the 70s. I do not see a consistently hot summer or an unusually "cold" summer either. The pattern will support periods of both hot conditions and cooler weather.
 We start the forecast on Wednesday on a warm note as temperatures climb through the 80s. Clouds increase later in the day as showers move in.
 Thursday will be showery and humid as a weak storm moves through the region along a frontal boundary.
 Friday and Saturday could be rainy as the storm stalls off the coast. However, if the storm forms further south (over North Carolina) these days will be sunny with some clouds, but no rain. I am favoring the latter outcome, but will provide updates throughout the week. Temperatures will be in the lower 80s.
 Sunday looks to at least start sunny before some clouds arrive. Temperatures will be in the 80s.
 Monday and Tuesday will be hot and humid as we get back into the 90s. We need to watch for some thunderstorms arriving on Tuesday as well.
  The weather winner of the week is the Wednesday; the weather loser is Tuesday (too hot!).