Weather
Accu-Reggie 7 Day Forecast (June 22-June 28)
---
  Summer heat returned and turned up last week. We started the week cool and a bit rainy before 90s arrived by the weekend. This week will be similar to last week but a bit warmer. If you don't like extreme summer heat I can tell you that nothing extreme looks to be coming our way. Overall, it feels like typical Summer weather that's great for nighttime activities, playing outside and MLB baseball.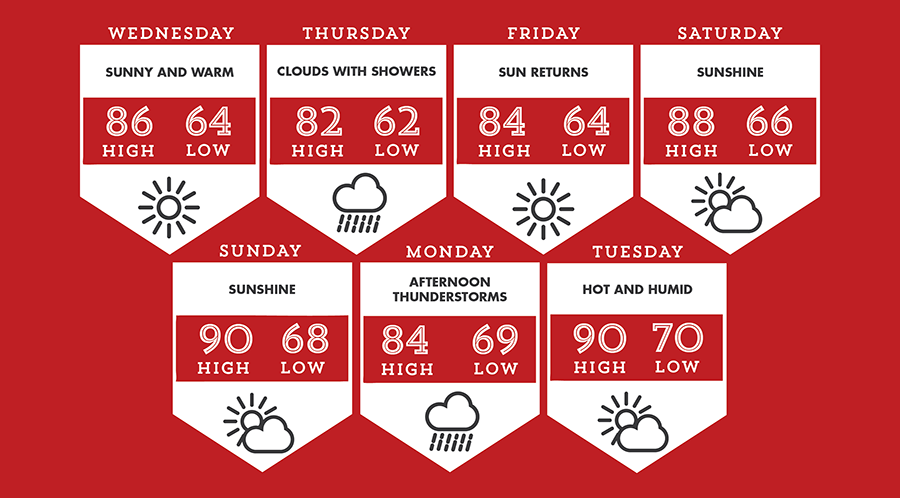 Our two shots of rain this week are on Thursday and Monday. Thursday's storm is the larger of the two rain events along a slow moving front. Expect downpours for a few hours. Rain on Monday is brought to us by a weak cold front and could feature some severe, but short lived, thunderstorms.  
 We start the forecast on Wednesday on a warm note as temperatures climb through the 80s. Overall, a great day to be out and about!
 Thursday will be showery and humid as a weak storm moves through the region along a frontal boundary.
 Friday, Saturday, and Sunday will be sunny and increasingly warm across the period. Temperatures on Friday and Saturday will mostly be in the 80s, with a pop up to the 90s expected on Sunday.
Monday will start hot and humid before a weak cold front comes through with thunderstorms, especially late in the morning and afternoon.
Tuesday will be hot and humid as we get back into the 90s.
  The weather winner of the week is the Wednesday; the weather loser is Tuesday (too hot!).