Weather
Accu-Reggie: 7 Day Forecast (May 3, 2017 – May 9, 2017)
---
  Last week was exactly what we expected: a warmth bonanza with summer-like heat much of the time. The weather this past year has been absolutely baffling. We seem to be oscillating back and forth between extremes every week. Remember when we were in the 70s in February and then it snowed the next day? This week will make all the warmth we just received a distant memory as we crash into cold, cloudy and damp weather. We just can't seem to get "normal" weather. It's either very warm or very cold!
  The week starts off with temperatures in the 60s before a large rainstorm moves through on Friday. What makes this weather event so extreme is that the storm never actually leaves us! It sits and spins over us for literally days! It's going to be day after day after day of cloudy, cool weather with showers. The cold pocket of air in the atmosphere is going to be so large that some places in the Appalachian Mountains could see some snow. This is the same type of pattern in winter that brings us polar-vortex cold and snowy weather. Of course, it's too late for snow in Philly, but it's going to be cold and wet nonetheless for May standards from Saturday through Tuesday!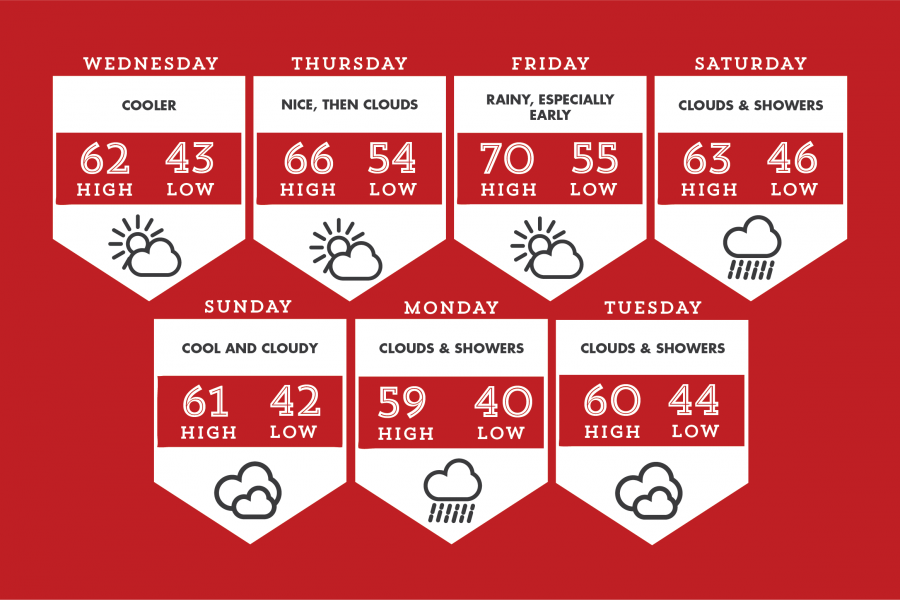 Wednesday is a cool day as a cold front kicks the surging warmth from Tuesday away. 60s with sunshine will dominate.
Temperatures will bump up on Thursday to the middle 60s – overall this is the best day of the week. It will be sunny but clouds will increase late in the day and especially at night.
Friday is rainy from almost start to finish. Rain will begin early in the AM and should wrap up by evening with a leftover shower here and there for Friday night.
  Saturday and Sunday are going to be cloudy and cool both days. Showers will threaten each afternoon and temperatures will struggle to make it out of the 50s. Showers are more likely on Saturday, so bring the umbrella for any outdoor activities.
  Monday and Tuesday continue the cool and dreary weather. The storm will be spinning around us with quick spurts of rain and a constant malaise of clouds. The storm will eventually pull away next week, but not until it gives us some pretty bad weather! Next week will be sunnier. •