Weather
Accu-Reggie 7 Day Forecast (November 9 – November 15)
---
  Last week was relatively tame. We started in the 70s and then took a step down to the 60s before finally landing in the 50s. Further, we only had a tiny bit of rain – 0.1 inches to be exact! I don't have news of more exciting weather coming our way, but we will get colder this week!
  The coldest day of the week will be Saturday and this will be a new level of cold we have not had so far! Temperatures will stay in the 40s and with a stiff breeze it will feel even colder – wind chill is back! We are taking baby steps toward winter each week and this week is no exception.
  Our only day with rain is on Wednesday as a strong cold front moves through with showers and maybe even a rumble of thunder. This cold shot is very short lived as we "surge" to the 60s on Friday before the real cold comes in. Friday will be the warmest day of the week.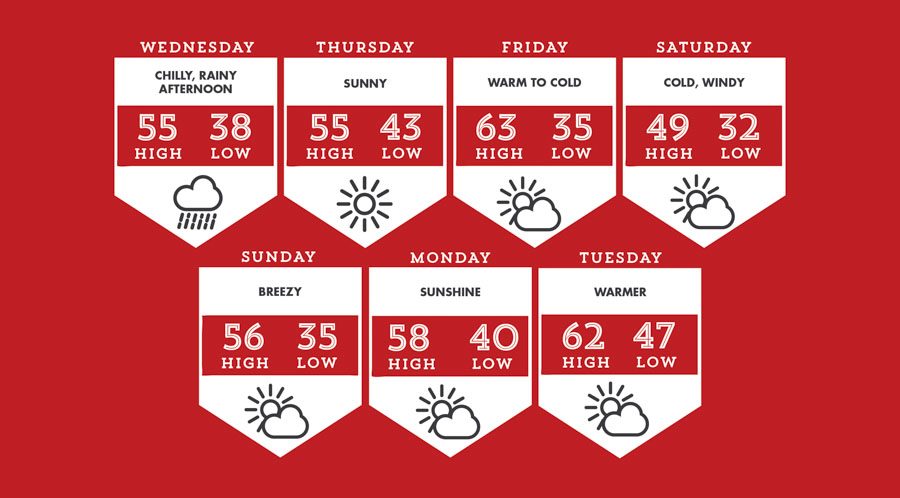 Wednesday is a transition day as a brief cold shot drops in bringing with it our only chance for measurable rainfall. Rain should only last about 3 hours in the afternoon timeframe.   
  Thursday is a sunny but chilly day. It will feel cool but it won't be as cold at night.
  Friday is a warm day that will almost feel Spring-like. The major cold-front comes through in the evening and jolts us back to a colder reality.
  Saturday will be the coldest day we've had in quite some time even with sunshine. Temperatures will be in the 40s and it will be windy making it feel even colder. Everywhere, even the city, should get to freezing at night.
  Sunday continues cool but it won't be as windy so it will feel warmer. Temperatures at least make it to the 50s.
  Monday and Tuesday are very similar as we gradually warm up both days to near or just above 60. The constant theme of the week is dryness. Right now, major storms seem to be put on hold. Something's gotta give, so I'll keep you updated throughout the week!
   The weather winner of the week is Friday; the weather loser Saturday. •