Weather
Accu-Reggie Christmas Forecast 2016
---
Last week was nothing short of spectacular! Frigid cold, snow, ice, rain, extreme warmth — you name it, we got it! This week is MUCH more tame, and just in time for the Holidays. No snow or ice will occur this week, the only thing that will fall from the sky is rain and not much of that either! Temperatures will be mild with a build up of warmth as the week progresses. Sorry folks, no white Christmas this year.
The tranquility of this week will not last for long, though. This pattern doesn't call for snow, but I think that will change in the New Year. I expect to see nor'easters and other storm tracks begin to take shape in the early part of 2017. Fans of warm weather, please enjoy this week because one thing I can guarantee is that the Arctic air will be back soon.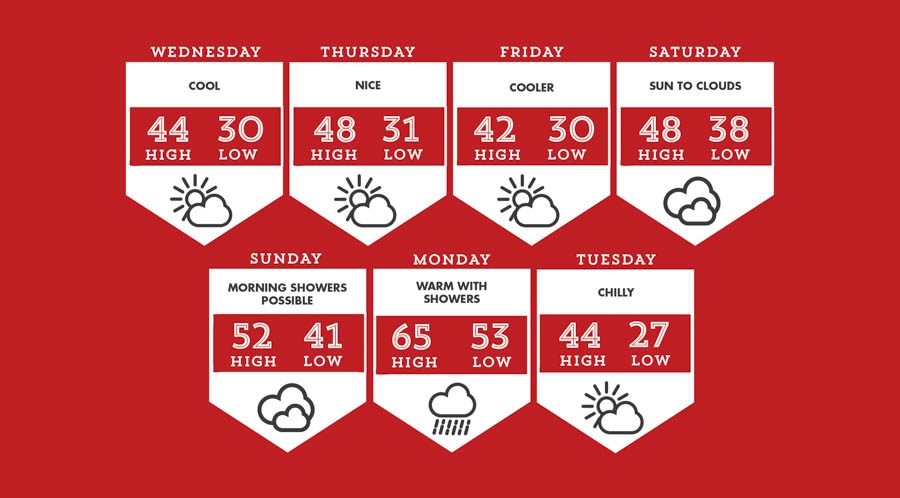 Wednesday is a chilly day, but will actually feel nice after the frigid air we just endured.
 We make a run toward 50 on Thursday as a storm system to our north pulls up milder air from the south out ahead of it.
 Friday is slightly cooler as the storm passes by to our north and pushes down some cooler air behind it. Nothing extreme here though, just 40 degrees.
Christmas Eve is warm with much of the day near 50. The evening will be in the 40s. In fact, at night we won't even make it all the way down to freezing in the city.
Christmas Day is a nice day overall. We could see a light shower in the morning, but 90 percent of the day will be dry. Temperatures move past 50 as warmth builds in from the South.
Monday is crazy warm for December with temperatures surging into the 60s. Showers are likely in the evening but don't plan for a lot of rain.
Tuesday is a return to reality as colder air filters back into the region.
  The weather winner of the week is Monday; no real weather losers this week.