Profiles in Fishtown
Fishtown Local Goes From Near-Felon to Valedictorian
---
  Michael Flanagan had worked a string of low-paying jobs, hamstrung by the fact that he never graduated high school. He was taking care of a newborn daughter. And he was selling and recreationally using marijuana.
  Then, in February 2016, a neighbor called the police on him, sending Flanagan, a Fishtown resident who was not yet 25, towards a potential felony conviction.
  His case was referred to Judge Marsha Neifield, who gave him a choice: Flanagan could proceed to trial, or go to a diversionary program for first-time nonviolent drug felony convictions, called The Choice is Yours (TCY).
  "They're selling for economic reasons. They come into the program with legitimate jobs and they're trying to make ends meet," said Kristen Rantanen, a communications expert at TCY's parent organization, JEVS Human Services.
  "It was fast money," Flanagan agreed.
  TCY participants are assigned a case manager who works with their individual needs. They run the spectrum from social issues like housing and family care, to job readiness challenges. In Flanagan's case, it was finishing high school. "I want to show my daughter you have to have your education," he said.
  "When I met Mike he was already incredibly focused on his future," Marta Buechler, Flanagan's case manager, said.
  He "always had a vision of what was the most important thing, and that was his daughter, Brielle."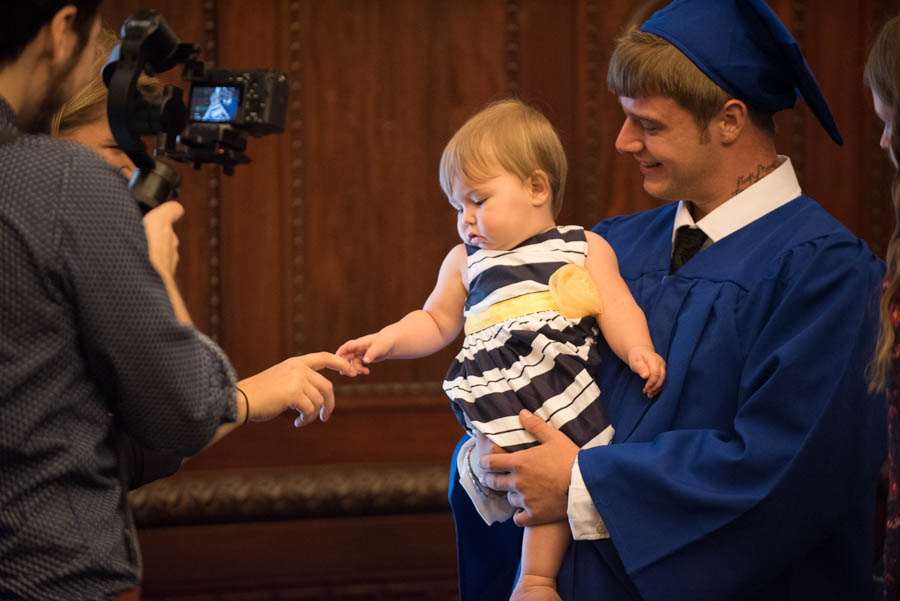 She connected him to the Penn Foster Program, an online high school completion program with instructors available 24 hours a day. Students spend at least 15 hours at TCY's physical location during the week.
  Alberta Lloyd is the Penn Foster Coordinator for TCY. She had only praise for Flanagan's conduct.
  "He never said to me, 'I hope I get a better grade.' He just said, 'I will get a better grade."
  Flanagan's road wasn't easy. In addition to needing to graduate high school, he had to complete 220 hours of community service to graduate TCY, on top of which he was holding down a job and taking care of his family. "At first I didn't know if I was going to keep up with it," he said.
  "I stayed up all night, kept up with the tests. If I had a bad grade the first time, I made sure I had a better grade the next time."
  He also credits his success to coffee, energy drinks, and Buechler, his case manager, who "is like my mom for the program." Flanagan ended up graduating in three months, with a 3.8 GPA, and as valedictorian.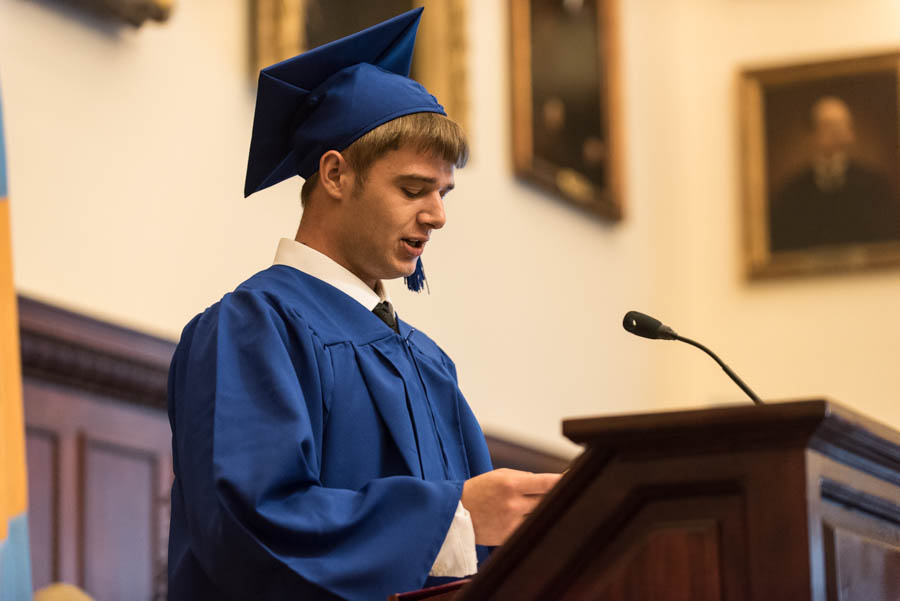 He has less than a month now before he graduates from the larger TCY program, on June 19th.  He's dropped his old friends, who he says smoked a lot, and spends more time with his cousin and family now.
  Next, he wants to pursue an apprenticeship at the Local 19 Sheet Metal Union, working on roofing and metal work in kitchens and schools, while slowly moving up the ranks to journeyman and then master.
  "In the future I plan to own my own roofing business and send my daughter to the best school money can buy," Flanagan said.
  His arrest record will be completely expunged if he stays out of crime for the year after graduation. "It's gone, it never happened," he said.
  Having an arrest record impacts your ability to access credit, education and a good job.
  "They really are a barrier to economic independence," said Rantanen, the communications expert.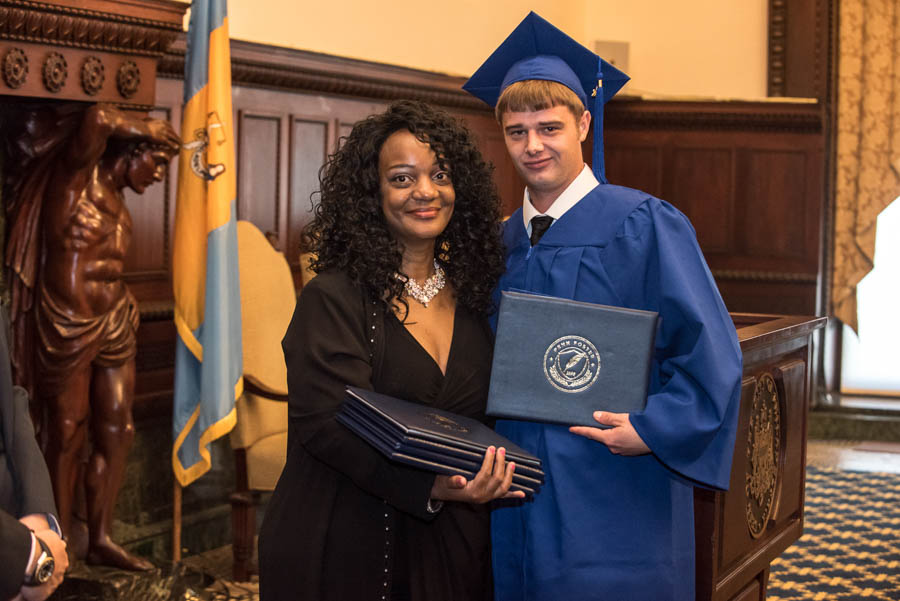 On top of which, had Flanagan not joined TCY, he would have gone to prison. "What a shame it would have been for a young man, for any young man, to spend a year or two in jail. What a shame, what a waste," said Rantanen.
  The cost of the 13-month course costs the city $5,000, compared to the $42,000 cost of incarceration. Additionally, the one-year recidivism rate for TCY graduates is 11.7 percent, compared to 40 percent for those with a similar criminal profile who did not join the program. Of course, the success of the program comes down to the participants as individuals, not statistics.
  "We were joking about when Mike would sleep. And he didn't," Buechler said. "He has this all on his own." •