Profiles in Kensington
Meet the Community Liaison of Philadelphia's Al-Aqsa Islamic Society
---
  Adab Ibrahim, Community Liaison for Philadelphia's Al-Aqsa Islamic Society, was already seated at ReAnimator Coffee in Kensington when I arrived. With three children (all at Temple University), a busy schedule, and a stress-fracture boot on one leg, Adab was gracious to offer me some time. We leaned over our steaming cups and beamed at each other. Perhaps she was happy to sit down and relax. I was vibrating with eagerness to learn, because hers is a culture about which I know little.
  We start by agreeing that misunderstanding is rampant.
  "It is the easy route, not to investigate," Adab remarks.
  With a sociology degree from Temple University and a Master's degree in Psychology, she is likely to be more understanding than most. As a feminist, I am especially curious about the hijab, which she is wearing, and the burqa. "Modesty is for Islamic women and men," Adab explains. "The hijab, or headscarf, is one form it may take. It's a choice, not a form of suppression, and it's about identifying as a Muslim."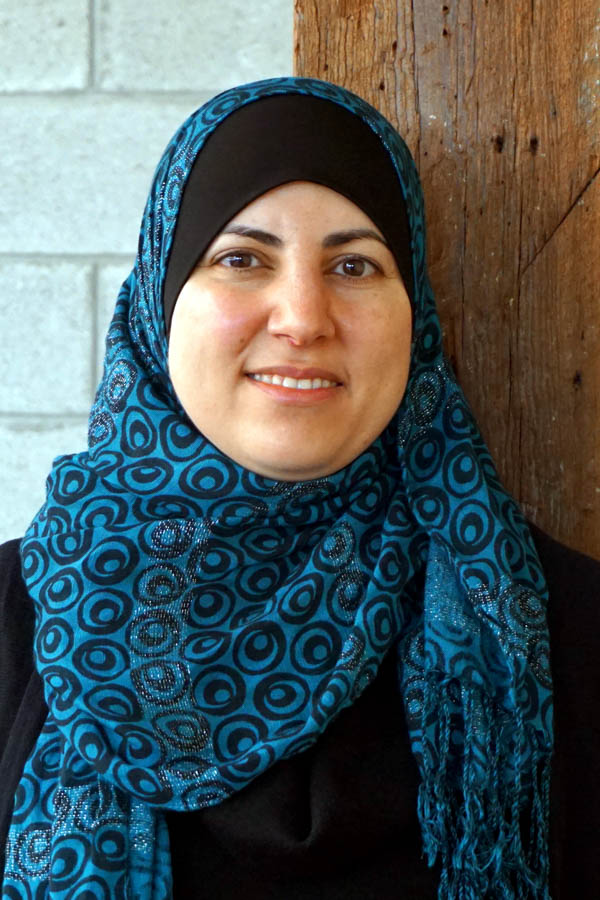 She shifts her clunky orthopedic boot under the table. The cappuccino machine whirs. "As for the burqa, it is not in the Quran. The burqa is a stricter interpretation of hijab. It's a cultural thing and depends on the country."
  While "hijab" is an Arab word meaning cover or barrier, in Islam it more broadly expresses the principle of decorum and humility and includes both dress and behavior. Muslim women and men who wear hijab express a variety of reasons, which may be religious, cultural, political, or personal — and are usually some combination thereof.     
  Adab is a Muslim American born and raised in Philadelphia. Her name (pronounced to rhyme with "lab") is a Muslim term meaning etiquette and respect. She is the oldest of six, with one sister and four brothers. Her father, Mahmud Ibrahim, came to the U.S. from Palestine in the 1950s and worked in a factory; he also sold housewares from his car. His earnings supported his parents and siblings still in Palestine, and eventually he helped everyone, including his new wife and her family, move to the U.S. — specifically the Kensington neighborhood of Philadelphia.
  Overall, approximately 200,000 Muslims call Philadelphia home, and about 85 percent are African American. Muslim Americans have been contributing to our city for over a century, starting with Lebanese merchants who set up shop in South Philadelphia.
  As the Palestinian-American community in Kensington grew, the need for a large place of worship and community center kept pace. Mahmud was a cofounder in 1989 of the Al-Aqsa Islamic Society, housed in the former Dublin Company furniture warehouse. At that time the area was full of crime and blight. The Society spread faith and good works, which include a mosque, grocery store (Al-Amana), accredited school (Al-Aqsa Academy, kindergarten through 11th grade), and playground. The center also offers a youth club and lectures and classes for adults. "Different cultures, like Egyptian and Moroccan, have joined the neighborhood because people want to be near the mosque," Adab says.
  The building exterior glows with the brilliant colors of Islamic art thanks to a collaboration with ArtWell, a Philadelphia non-profit organization that supports young people through art education, and Philadelphia's Mural Arts Program.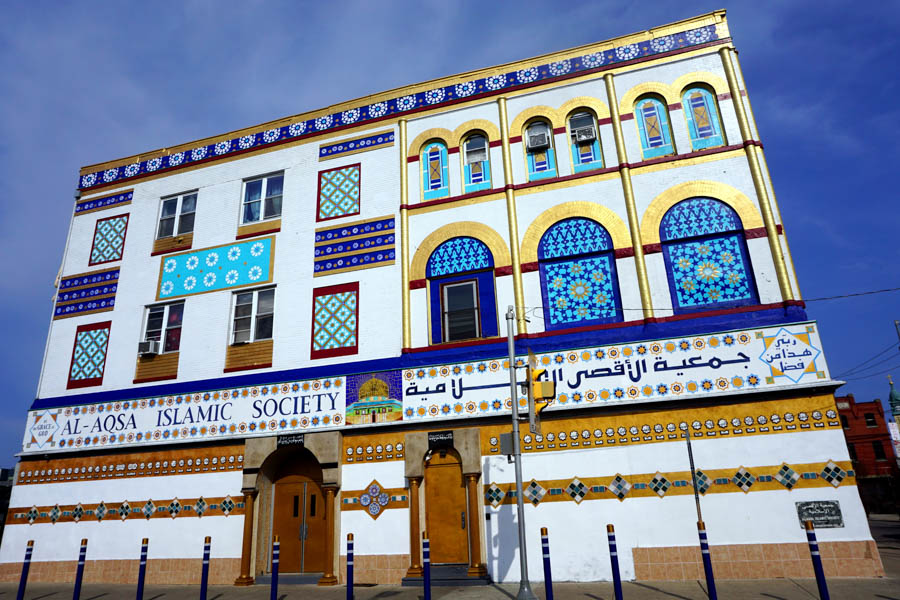 "ArtWell came to us about a pilot program to bring people of different faiths together through art," Adab said. With the success of an initial quilt project, ArtWell and Al-Aqsa conceived an ambitious second project to include churches, synagogues, local artists, school children, and neighbors in tile making and mural painting. Philadelphia's Mural Arts Program provided funds and support. The combined effort produced "Doorways To Peace," "Windows To Peace," and other elaborate decorations on the white mosque walls facing the world.
  As the neighborhood bloomed with new residents, and the warehouse transformed into a jewel, crime and blight faded. "We also started an annual interfaith dialogue event — a "peace walk-and-talk," Adab says. "We pick a Philadelphia neighborhood and work with them over 1–2 years to establish relations. In 2016, after 12 years of walks, we changed the event into a sit-down, face-to-face dinner to encourage dialogue even more. This year's dinner was in West Oak Lane in April."
  One topic that could benefit from dialogue is Sharia: Islamic Divine Law prescribing religious and secular duties. Certainly it is taken to extremes in certain global hotspots. "There are many different adaptations of Sharia," Adab said. One might equate these differences with those between Catholics who do and do not interpret the bible to decree that women are subservient and inferior to men, or between white Southern Baptists who do and do not support racism.
  "The key is, we abide by the laws of the country we live in," Adab said. "Also, penal justice is only one small part of Sharia." Newsworthy items tend to be dramatic and shocking to grab audiences. Meanwhile the complex, everyday depths go unexamined. "A very small number of countries operate under Sharia, because everyone must agree," Adab adds. As with all religions, modernists and traditionalists plus innumerable interpretations of Holy Writ compose a living, evolving entity.   
  Misunderstanding and lack of knowledge contribute significantly to the recent anti-Muslim rhetoric. Words have consequences: crimes against Muslims increased by 78 percent in 2015 and by an additional 44 percent in 2016. Adab describes a huge outpouring of support from the Philadelphia community. "People have been calling, offering help, asking about events," she says. Collective Action, "a silent art auction for social justice under Trump," raised $25,000 dollars with art donated by 100 area artists and gave a portion to Al-Aqsa as well as the Southern Poverty Law Center, the Standing Rock Sioux Tribe, and 10 other organizations.
  I mention participating in the protest against Trump's immigration ban at Philadelphia International Airport. "I was there," Adab said, "and people were hugging me, saying, 'Welcome,' and taking selfies with me. It was surreal." I see how this could be strange and annoying while also being funny and sweet. Enthusiasm is sometimes misplaced, but the heart is good.
  We could talk for hours, but commitments press. As we leave the café, Adab calls a greeting to a bicyclist. "I know her from my gym," she says. This remark leads to a comparison of exercise routines. We squint in the sun. Then we make our good-byes and head off in different directions. •