Profiles in Kensington
From Depths of Fire Tragedy, Red Paw Saves Abner The Cat
---
 In the deep of night on Memorial Day weekend, Michelle Graser found herself woken up from her rowhome on 6th and Berks by the smell of smoke.
 She went to her back window and looked at her neighbor's apartment, which is conjoined with hers. Thick clouds of soot plumed into her face.
 That's when she heard her landlord scream.
 "Michelle, get out, get out, get out," Graser recalled.
  She ran downstairs and out the front door, the escape backlit by flames.
 Then she stood out on the street, in her slippers and nightgown, as emergency personnel surged on the scene.
 The blaze ultimately killed three of the five people in her neighbor's apartment. Graser and the only other inhabitant in her building, the landlord, were okay.
 Their home survived without much structural damage, though, even a month later, the pungent odor of soot permeates the building, and most household items have been ruined by smoke and mold. The other apartment is standing, but completely hollowed out.  
 Though the damage to the building does not run that deep, the impact the fire had on Graser certainly does. "It affected me in almost every way because, all of a sudden, you lose everything you've collected all your life," Graser, who works at Sketch Burger, on 413 E. Girard, said.
 "One day, it's all gone."
 A collector, Graser lost 150 vintage hats. Photos she had kept had their frames melted off.  "All that stuff is irreplaceable," she said.
 One thing she was fortunate not to lose was her cat, Abner, who was found hiding under the house by a special animal firefighter.  "This fireman comes over to me.  Do you have any animals?" Graser recounted from the night of the fire.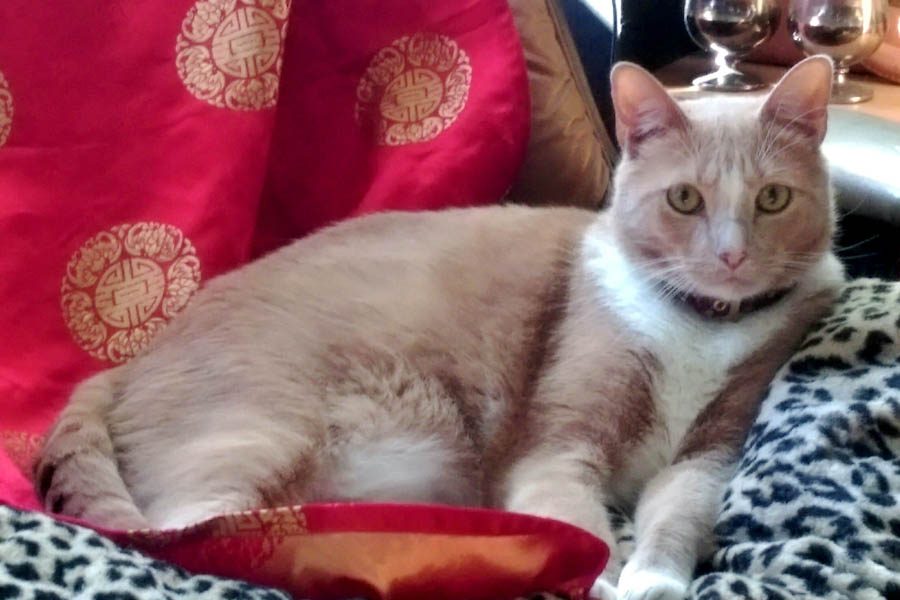 "You get this look in your face like he's telling you something terrible."
 But the news wasn't terrible — Abner, terrified and matted with ash but safe and unharmed save minor smoke inhalation, was brought over moments later in his cat carrier.
 Red Paw, the nonprofit organization responsible for the rescue, was started by Jennifer Leary in 2011, informed by her own work as a firefighter.
 "I just left too many fire scenes and disaster scenes feeling I didn't really help as much as I could," she said.
 "You go to enough fires where there are people with pets and no people there to assist those family members," Leary added.
 Red Paw is the only organization which has round the clock residential rescue services for pets in the entire country. And with an average of two responses every single day, Red Paw's services are clearly in demand.
 In addition to rescues and on the scene emergency care — Abner received oxygen during his rescue – Red Paw helps get wounded and homeless animals ambulatory care and a temporary home while their owner gets their bearings. And it's all free of charge. "It's definitely an unmet need," Leary said.
 Leary said that saving an animal often gives solace to families who may have lost a loved one. "We find that with a lot of fire deaths, it gives closure," she said.
 Fortunately, no such closure was needed in this case. Abner and Graser are safe together at a hotel, which was paid for by renter's insurance. Graser says that her friends and colleagues have stepped up and made her feel supported.  
 Now, she's organizing a fundraiser for Red Paw, on July 9th at an event warehouse at Mascher street, which will be complete with food, drink and raffles around the neighborhood.
 "The fire was a catalyst to take that instance and turn it into something good," she said.